Planet IHD-200PT HDMI Over IP
Pretul include: TVA
Descriere
<TABLE border=0 cellSpacing=0 cellPadding=0>
<TBODY>
<TR>
<TD>PLANET IHD-200PT and IHD-200PR work as a pair to facilitate the management of video wall and HDMI display over IP Ethernet with PoE. </TD></TR>
<TR>
<TD>&nbsp;</TD></TR>
<TR>
<TD><B>Video Extender</B><BR>The IHD-200PT and IHD-200PR are able to send the same video signal to multi-monitors in different locations at the same time. It helps to quickly extend the image and commercial to the public efficiently in such places as expos, food courts, boardrooms, and any public areas.<BR></TD></TR>
<TR>
<TD>&nbsp;</TD></TR>
<TR>
<TD><A href="http://www.planet.com.tw/en/product/images/48461/IHD-200PT_IHD-200PR-4_L.gif" rel=prettyPhoto><IMG border=0 src="http://www.planet.com.tw/en/product/images/48461/IHD-200PT_IHD-200PR-4_s.gif"></A></TD></TR>
<TR>
<TD>&nbsp;</TD></TR>
<TR>
<TD><B>Video Wall</B><BR>To bring the image and picture in larger size over video wall, the IHD-200PT and IHD-200PR are the ideal solution to distributing one specified image, picture, or video to multiple screens which are usually applicable for sports, department stores, movie theaters, etc.</TD></TR>
<TR>
<TD>&nbsp;</TD></TR>
<TR>
<TD><A href="http://www.planet.com.tw/en/product/images/48461/IHD-200PT_IHD-200PR-2_L.gif" rel=prettyPhoto><IMG border=0 src="http://www.planet.com.tw/en/product/images/48461/IHD-200PT_IHD-200PR-2_s.gif"></A></TD></TR>
<TR>
<TD>&nbsp;</TD></TR>
<TR>
<TD><B>Efficient Control via Selectable 16-Channel DIP Switch</B><BR>Where there is more than one transmitter in the video wall system, the rotary DIP switch in the IHD-200PT and IHD-200PR facilitates distinguishing the pair of the transmitter and receiver units in the same channel. It further enables the broadcasting system to perform multi functions including Video Extender and Video Wall simultaneously through matching of the IHD-200PT and IHD-200PR. </TD></TR>
<TR>
<TD>&nbsp;</TD></TR>
<TR>
<TD><A href="http://www.planet.com.tw/en/product/images/48461/IHD-200PT_IHD-200PR-5_L.gif" rel=prettyPhoto><IMG border=0 src="http://www.planet.com.tw/en/product/images/48461/IHD-200PT_IHD-200PR-5_s.gif"></A></TD></TR>
<TR>
<TD>&nbsp;</TD></TR>
<TR>
<TD><B>Combining the two functions</B><BR>The selectable 16-channel DIP switch is applied to combine the two main functions as shown in the following diagram:</TD></TR>
<TR>
<TD>&nbsp;</TD></TR>
<TR>
<TD><A href="http://www.planet.com.tw/en/product/images/48461/IHD-200PT_IHD-200PR-3_L.gif" rel=prettyPhoto><IMG border=0 src="http://www.planet.com.tw/en/product/images/48461/IHD-200PT_IHD-200PR-3_s.gif"></A></TD></TR></TBODY></TABLE>
Comandă rapidă
Completează cele 2 câmpuri
PLANET IHD-200PT and IHD-200PR work as a pair to facilitate the management of video wall and HDMI display over IP Ethernet with PoE.
Video Extender
The IHD-200PT and IHD-200PR are able to send the same video signal to multi-monitors in different locations at the same time. It helps to quickly extend the image and commercial to the public efficiently in such places as expos, food courts, boardrooms, and any public areas.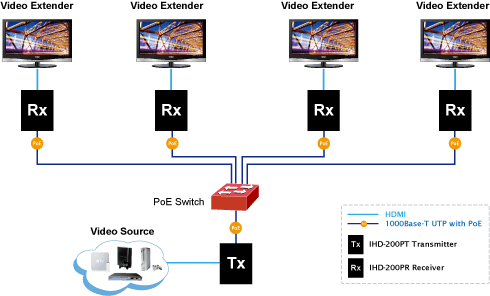 Video Wall
To bring the image and picture in larger size over video wall, the IHD-200PT and IHD-200PR are the ideal solution to distributing one specified image, picture, or video to multiple screens which are usually applicable for sports, department stores, movie theaters, etc.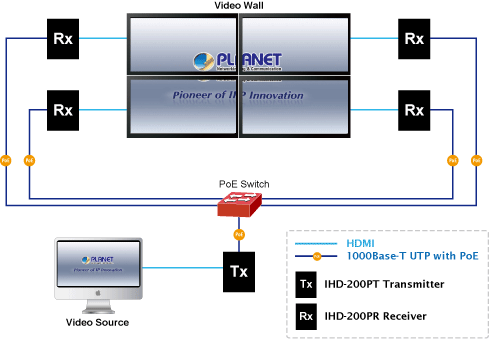 Efficient Control via Selectable 16-Channel DIP Switch
Where there is more than one transmitter in the video wall system, the rotary DIP switch in the IHD-200PT and IHD-200PR facilitates distinguishing the pair of the transmitter and receiver units in the same channel. It further enables the broadcasting system to perform multi functions including Video Extender and Video Wall simultaneously through matching of the IHD-200PT and IHD-200PR.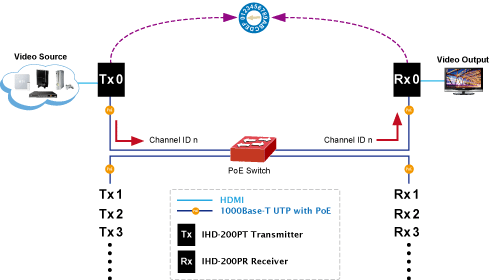 Combining the two functions
The selectable 16-channel DIP switch is applied to combine the two main functions as shown in the following diagram: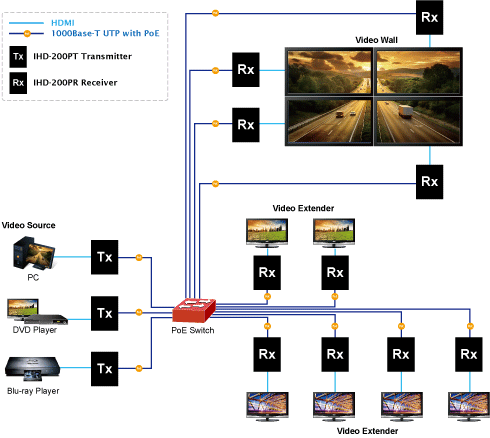 Descrierea bunurilor sau a serviciilor disponibile pe www.digiland.ro (prin imagini, video, text etc.) este cu titlu de prezentare si nu reprezintă o obligație contractuală din partea Angelosoft Computers SRL. Societatea noastră nu își asuma răspunderea pentru eventualele erori sau omisiuni apărute privind prețul, stocul sau descrierea produselor (imagini, video, text etc.) și nu se obligă la nicio acțiune. Toate comenzile plasate, vor fi confirmate telefonic de către un operator Digiland. Astfel, clientul va fi informat in cazul apariției unei erori in cadrul comenzii plasate, ca urmare a lipsei de acuratețe, a unei greșeli de dactilografiere sau o eroare a produselor software. Angelosoft Computers SRL își rezerva dreptul de a corecta erorile in afișare, putând face oricând modificări in structura website-ului și arhitectura acestuia, fără nicio formalitate și fără notificare prealabila.